LIVE UPDATES: Boston Marathon Bombing, Day 2
BOSTON -  
4:32 p.m. ET: In a hospital mix-up, the family of Krystal Campbell was told their daughter had survived her injuries from the Marathon bombings, only to later learn she was dead, reports WCVB-TV.
4:02 p.m. ET:  Officials say early clues that led them to investigate a 20-year-old Saudi national living in Revere, Mass., are unlikely to play a significant role in the ongoing investigation.
4:00 p.m. ET: Investigators have recovered a circuit board or parts of circuit board from one of the bombs, law enforcement officials tell ABC News.
PHOTOS: The Heroes of the Boston Marathon
3:19 p.m. ET: Boston police and firefighters' unions are offering a $50,000 reward for information leading to the arrest of the perpetrators responsible for the marathon bombing.  They have also set up a fund accepting donations for victims of Monday's attack.
2:36 p.m. ET: Krystle Campbell , 29, of Medford, Mass., is confirmed as the second known death from Monday's terror attack at the Boston Marathon, according to ABC affiliate WCVB-TV.  Campbell was there to cheer on a friend in the race, according to her mother Patricia Campbell. "She was a beautiful young being," her mother said.  "She loved pets. She loved people… This is just a waste."
1:03 p.m. ET:  "My dear son Martin has died from injuries sustained in the attack on Boston.  My wife and daughter are both recovering from serious injuries.  We thank our family and friends, those we know and those we have never met, for their thoughts and prayers," said Bill Richard, father of  slain 8-year-old Martin Richard, killed in Monday's attack.
12:55 p.m. ET: Boston police say a photo taken in the wake of the attack that appears to show a man on a rooftop over the crime scene has been sent to the FBI, and will be analyzed along with hundreds of other images.
12:54 p.m ET: It appears at least one of the bombs used in the Boston Marathon attack was composed of a pressure cooker filled with nails and ball bearings, according to federal sources. Both devices are still being inspected, but this is the leading theory of their construction, according to sources.   The bomb appears to have been placed in a black or dark colored duffel or nylon bag that was placed on the ground at one of the two sites.
11:31 a.m. ET: "This was a heinous and cowardly act," says President Obama. "We will find whoever harmed our citizens and we will bring them to justice… The American people refuse to be terrorized."
11:30 a.m ET: President Obama speaks live from the White House
11:10 a.m ET: President Obama is expected to speak from the White House at 11:30 a.m.
11:03 a.m. ET: The central terminal at La Guardia Airport in New York City has been evacuated due to a suspicious package and bomb disposal units are at the scene, authorities tell ABC News.  So far, no flights have been affected.
10:15 a.m. ET: Six to eight patients at Mass. General Hospital remain medically sedated and in intensive care.
10:14 a.m. ET:  Many [victims] have severe wounds, mostly in the lower part of their body," says a doctor from Massachusetts General Hospital.  Victims have metallic fragments in their bodies including shrapnel and nails, which appear to have been part of the bombs' construction.
10:06 a.m. ET:  FBI says investigation will be worldwide. "We will go to the ends of the earth to find subject or subjects responsible for this despicable crime," says  FBI Special Agent in Charge Richard DesLauriers.
10:05 a.m. ET: Police say 176 casualties; 17 critical; 3 fatalities.
10:05 am ET: Police Commissioner says suspected bomber is not believed to be one of the three people killed.  He said the device was not located in a trash can and the race course had been swept twice earlier in the day for bombs.
10:00 a.m. ET: FBI won't confirm names of individuals they are questioning.
9:48 a.m. ET: Boston Police Commissioner Ed Davis calls marathon bombing the "most complex crime scene that we've dealt with in the history of our department."
9:47 a.m. ET: "No known additional threats ," says  FBI Special Agent in Charge Richard DesLauriers.
9:43 a.m. ET:  "Ive been mayor for 20 years now, and I've never seen… our city pull together like this," says Boston Mayor Tom Menino.
9:42 a.m. ET:  Mass. Gov. Patrick says only two devices found. Earlier reports suggested there might have been more unexploded bombs at scene.
WATCH LIVE: FBI PRESS CONFERENCE
9:36 a.m. ET:  "The state will be open for business today, but it will not be business as usual," Mass. Gov. Deval Patrick says in a statement.
9:15 a.m. ET: Massachusetts National Guard increases troops in Boston from 460, at the time of the marathon, to 1,000.
PHOTOS: Terror at the Boston Marathon (Warning: Viewer Discretion is Advised)
8:13 a.m. ET: FBI to hold a press conference at 9:30 a.m.
8:10 a.m. ET:  "The United States government is appropriately focused on finding the facts hours after the horrific explosions at the Boston Marathon. This afternoon's attack is deeply personal to all of us who call that city our home," Secretary of State John Kerry, the former senator from Massachusetts,   said in statement. "Today's attack was an assault on who we are in Massachusetts on a Patriot's Day that honors where we came from."
Cops Search Apartment, Question Survivor, Analyze Blast But Have No Suspects
Doctor Running in Boston Marathon Tended to 'Piles of Victims'
6:34 a.m. ET: ABC News has confirmed that at least 145 are injured following the Boston Marathon attack and 17 of those are critical injuries.
6:15 a.m. ET: ABC News' Boston affiliate WCVB reports the 8-year-old victim has been identified as Martin Richard . A single candle was placed in front of his home overnight in Dorchester, Mass.
On Monday, two small but powerful bombs exploded at the finish line of the Boston Marathon.  No one has claimed responsibility for what authorities have labeled a "terrorist" attack.  At least 145 people were injured, and three people, including an 8-year-old boy, were killed.
Local, state and federal authorities are investigating. They are interviewing one "person of interest," a 20-year-old Saudi national injured in the attack,  but have not named him a suspect.
For complete coverage of Monday's events, click here.
For complete coverage of yesterday's events click here.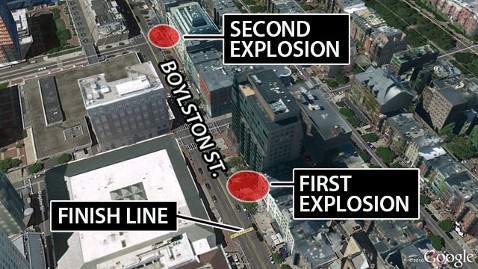 Top Stories - Trending Now