BAKERSFIELD, Calif. (KERO) — May is Mental Health Awareness Month, and Kern Behavioral Health and Recovery Services is continuing its mission of supporting and uplifting those who may be struggling with reaching out for help. KBHRS is highlighting seeking help during this month's Grounded in Health Initiative.
According to Kern County Public Health Director Brynn Carrigan, the idea behind this initiative is to encourage people never to be ashamed or afraid to ask for help when it comes to their mental health.
"Seeking help is actually a signal of strength. You're actually being very strong by seeking help, by reaching out and admitting that you can't do things on your own," said Carrigan. "The beautiful thing about Kern County is you're not alone."
Carrigan says addressing mental health issues is key in one's life because it also plays a role in physical health as well.
These thoughts are also shared by Kern Behavioral Health and Recovery Services Director Stacy Kuwahara, who says their goal is to help those who struggle with their mental health live an overall happier, healthier, and more productive life.
Kuwahara adds that seeking help and connecting with one another is one of the most meaningful ways that we can care for ourselves and our loved ones.
"It's so important to be talking about mental health and to bring awareness events forward, to really support ending stigma and making our ideas about mental health, normalizing them, introducing people to where they can go to help, and giving them small reminders that we are here and all of the great resources in our community," said Kuwahara.
According to Kuwahara, in the United States, just under 20 percent of people, or one in five, are living with mental health conditions, and less than half of those are seeking help when they need it.
Kuwahara says negative societal perceptions that discourage people from talking about their mental health needs also create barriers, and that is why the department is working to change that stigma.
Some of the resources the county offers include substance abuse, crisis intervention, and family counseling, among others.
"You don't have to be alone. You don't have to suffer, and there is help out there," said Kuwahara. "I encourage everybody to seek help in any way that they are comfortable with. There are a number of resources that are available now that make it very easy for people to reach out. We have a lot of wonderful things here in Kern and a lot of amazing, caring people that are there for you."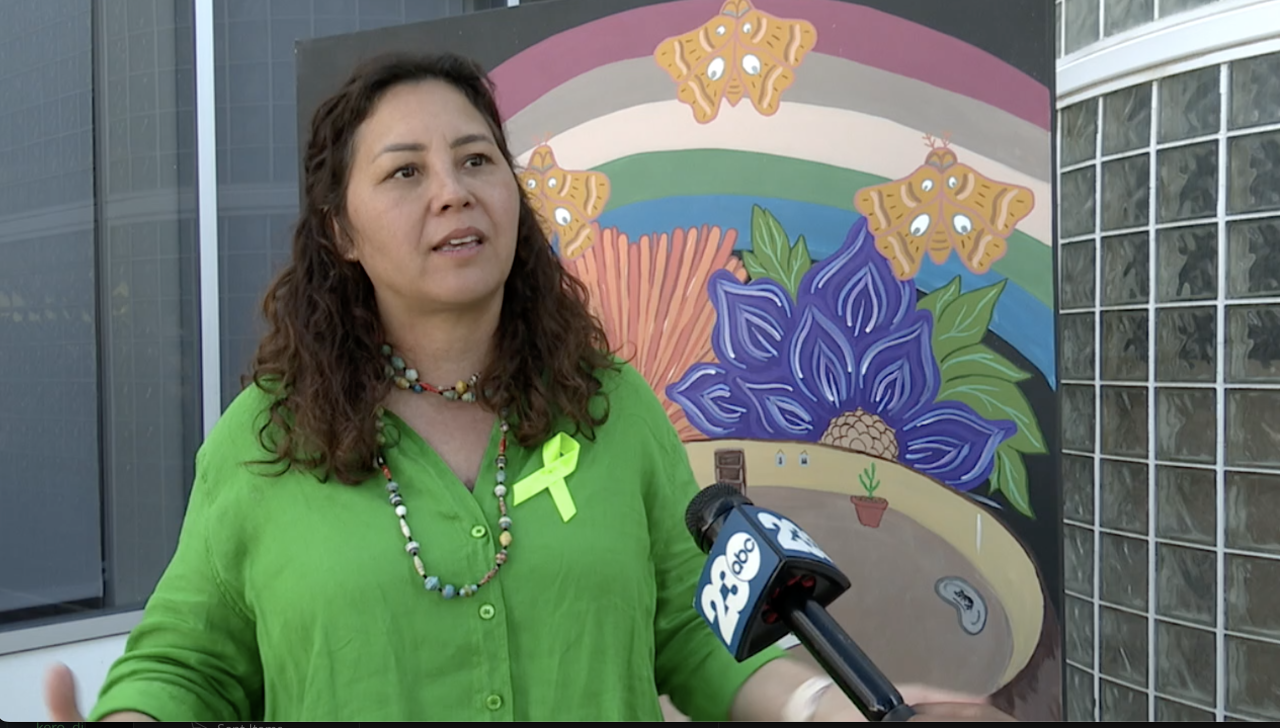 To keep the conversation of mental health going, Carrigan says they each will be wearing lime green throughout the month of May to help raise awareness.
"We're all wearing green every Friday to really join in unity, to show our community that addressing mental health should not be something that's feared," said Carrigan. "It should not be stigmatized, and together, we're going to overcome that."
To view the calendar of upcoming events hosted by the Grounded in Health Initiative, please visit the Community page at the Kern Behavioral Health and Recovery Services website.
IN-DEPTH: PETS AND MENTAL HEALTH
Furry fighters on the frontlines of friendship: Pets and mental health
Experts say loneliness can be a large contributor to mental health issues. That's why Kern County Animal Services has partnered with Kern Behavioral Health and Recovery Services to remind the community about how having a pet can have a positive impact on one's mental health.
With that in mind, Kern Animal Services and Kern Behavioral Health have teamed up to hold an on-site pet adoption event.
"This is a perfect opportunity," said KBHRS Director Stacy Kuwahara. "We're talking about seeking help, we're talking about mental health awareness, and for me, my pets at home have been a tremendous source of comfort, of love, of companionship. They lift my mood every day. I would love to see these dogs find a home."
Kern County Animal Services Director Nick Cullen says the benefits of pet ownership are more than just psychological.
"Dogs, cats, and pets provide more than just being an animal in our house. They really do provide some measurable, tangible benefits," said Cullen. "They complete our lives. They have been shown to reduce anxiety, reduce levels of stress, and they just complete our lives."
This kind of innovative community partnership to address community mental health through a variety of means is one way for county services to make help as accessible as possible. Kern County Public Health Director Brynn Carrigan says giving people space to reach out is key to improving lives.
"It is so important that our community really recognizes the role that mental health plays in our physical health and seeks help," said Carrigan. "We have a lot of county departments that are here that provide services most times free of cost to our community. I strongly encourage that our community takes advantage of these services."
---
---